Colleen Veloski, MD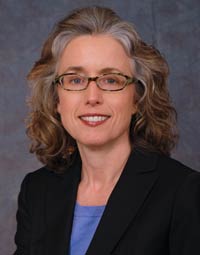 As an endocrinologist specializing in thyroid and parathyroid disorders, I believe that my expertise meets the needs of a broad range of patients who seek or have received treatment at Fox Chase Cancer Center.
Early in my career, I developed an interest in the diagnosis and management of thyroid cancer. While thyroid nodules are very common, only 5-10% of all thyroid nodules are malignant. Fine needle aspiration biopsy can differentiate malignant nodules from benign nodule with a high degree of accuracy, but it is not possible or advisable to biopsy the thousands of benign thyroid nodules discovered each year. In the last 5-10 years, research in the area of thyroid nodules and thyroid cancer has shown that ultrasonographic characteristics combined with other risk stratification factors can direct us to biopsy only those nodules with a higher risk of clinically significant malignancy. This results in fewer diagnostic procedures and unnecessary surgeries. As a result, I have developed my skills in the areas of thyroid ultrasound and ultrasound guided fine needle aspiration biopsy in order to comprehensively manage and follow thyroid nodules.
I also manage the initial treatment and ongoing monitoring of patients ultimately diagnosed with thyroid cancer. Most of these patients require surgery, and perhaps, radioiodine treatment, that results in lifelong hypothyroidism. As an endocrinologist, I can manage the initial cancer treatment, ongoing monitoring for thyroid cancer recurrence, and thyroid hormone replacement therapy for thyroid cancer patients. In the rare event that hypoparathyroidism occurs following surgery for thyroid cancer, I can also manage those patients as well as patients with hyperparathyroidism due to parathyroid tumors.
I believe that patients receive the best care when all of the caregivers communicate among each other and, most importantly, to the patients. At Fox Chase, our thyroid cancer team includes specialists from endocrinology, medical oncology, surgical oncology, radiation oncology, radiology, pathology, and nuclear medicine. Together along with our dedicated team of experienced, compassionate staff, we develop and deliver a comprehensive treatment plan for patients.
For general information, call: 1-888-FOX CHASE (1-888-369-2427).